Access Scaffolding Bury St Edmunds, & Suffolk
Covering All Aspects of Domestic & Commercial Access Solutions
KMS Scaffolding Ltd offers access scaffolding Bury St Edmunds, Suffolk and Cambridgeshire that are ideal for both domestic and commercial projects. We provide access solutions for when you need to gain access to areas that cannot be reached easily. These are especially helpful for projects with tall structures where workers need safe access to work from. These include areas such as new building projects, chimney scaffolds, roof scaffolds, developments, etc.
Given that all our access scaffolding specialists are CHAS and CITB approved, you can be guaranteed to receive a high quality of workmanship that is second to none. We also abide by up to date regulations set by local and industrial authorities, and are CISRS registered. We are committed to ensuring that our clients have absolute peace of mind and feel comfortable over the fact that they have chosen a reputable scaffolding company.
Looking for access scaffolding Bury St Edmunds, Suffolk or Cambridgeshire? Please do not hesitate to contact our scaffolding contractors for a free quote and consultation today. Our team will be more than happy to setup a meeting to inspect the site and start planning.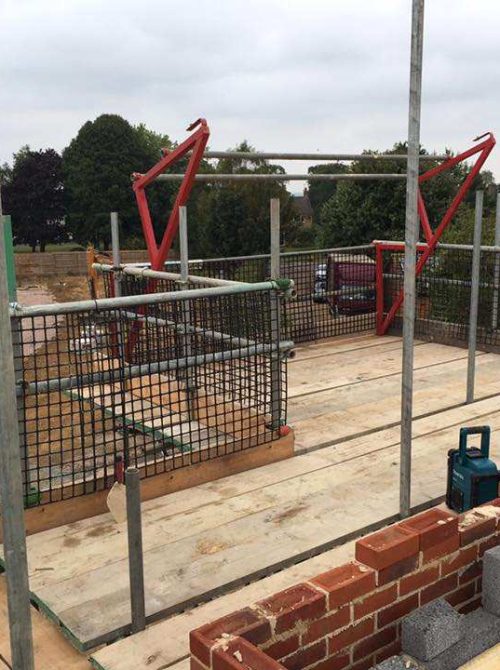 Bridges & Access Platforms
Access platforms and bridges work great for structures that gives easy access to areas that are otherwise difficult to reach. This is especially important for tall structures.
Suspended & Birdcage Scaffolds
Suspended scaffolding and birdcages work well for both commercial and domestic projects that provides safe working environments to your workers and ensuring they are well protected.
Edge Protection & Site Hoarding
Our edge protection and site hoarding services are perfect for improving site safety and security, avoiding potential costly accidents for both your workers and/or the general public.
Handrails & Staircase Systems
We install handrails and staircase systems to provide workers with a safe working environment. It also adheres to the Health and Safety regulations.
Lifting Hoists & Beams
Installing lifting hoists and lifting beams on tall structures can be very helpful and our scaffolders are well equipped to carry them out for you.
System Scaffolding
System scaffolding allows you to quickly install and dismantle scaffolding structures which provides faster turnarounds and improved efficiency.
KMS Scaffolding Ltd always aim to receive 5 star feedback from our customers for all types and sizes of scaffolding jobs undertaken. Visit our Reviews, Facebook or Google Page to read more testimonials.
Graham Atkinson
Customer In Cambridge
"Totally impressed with the service provided by KMS courteous and friendly people - did a great job no hesitation recommending to anyone."
Gemma Clarke
Customer In Bury St Edmunds
"I would highly recommend this company, they helped us with our scaffolding needs when renovating our home. KMS staff were very polite, quick to respond and made our project start stress free."
Ozzy Waterton
Customer In Suffolk
"After a long working relationship with KMS scaffolding Ltd, I can definitely say that their competitive prices, and workmanship, are 100% reliable."