Commercial Scaffolding Bury St Edmunds & Suffolk
Covering All Aspects of Commercial Scaffolding Hire & Erection
KMS Scaffolding Ltd provide commercial scaffolding Bury St Edmunds, Cambridgeshire and Suffolk. Our approach ensures projects are delivered in a timely and cost effective manner. We have completed various commercial projects including offices, industrial units, shops, schools, colleges, universities, restaurants, pubs, hotels, building developments, etc. Our aim is to raise the bar for other scaffolding companies in Cambridge and the surrounding areas.
While working on a commercial project, we highly recommend choosing scaffolding contractors who specialise in working with commercial sites. The details and specifications are unique to commercial scaffolding and therefore having a thorough understanding of various concepts relating to it can come a long way. Our well trained and qualified commercial scaffolders have grasped these concepts through many years of experience. The team are fully equipped the right skills to undertake any form of commercial scaffolding including scaffold design, tendering, scaffold erection and dismantling.
We also take health and safety compliance very seriously for every commercial scaffolding service undertaken. It is the policy of KMS Scaffolding Ltd to provide a safe and healthy working environment for all those directly and indirectly involved in the project. Being CHAS and CITB approved, all our work are carried out to meet the utmost standard of quality and assurance.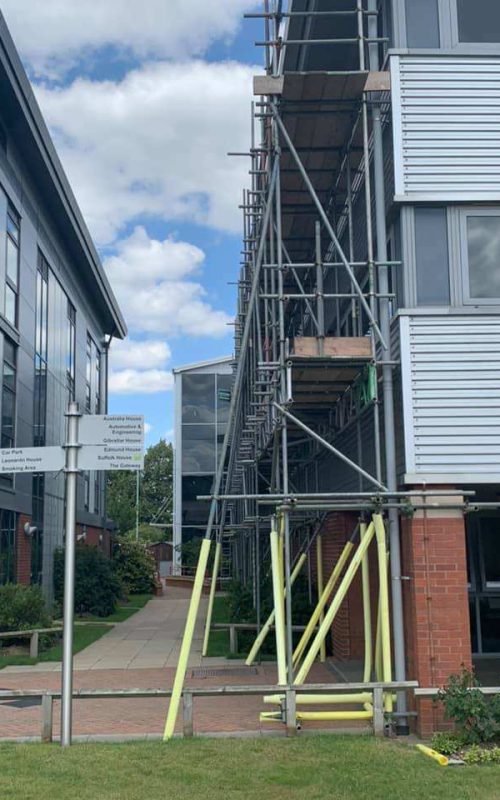 Scaffolding For Construction
Our scaffolders at KMS Scaffolding Ltd have 20+ years experience in handling commercial and industrial construction projects across all areas of scaffolding.
Scaffolding For Public Buildings
We have undertaken scaffolding projects for public buildings such as shopping centres, industrial units, schools, high streets, churches etc.
Scaffolding For Industrial Units
Should you require scaffolding for any industrial units, we can send over our specialist team to evaluate and provide a free quote and consultation.
Scaffold Design & Planning
Our scaffold designers will plan the entire project from start to finish to ensure they are completed in a timely manner within a specified budget.
Temporary Roofs & Coverings
Commercial projects are likely to take a long time to complete. It is therefore important for the site to be kept dry and protected from external elements.
Access Scaffolding Solutions
It is important to provide workers with a safe working platform especially on tall structures. Our access solutions provide a safe and secure working platform.
KMS Scaffolding Ltd always aim to receive 5 star feedback from our customers for all types and sizes of scaffolding jobs undertaken. Visit our Reviews, Facebook or Google Page to read more testimonials.
Graham Atkinson
Customer In Cambridge
"Totally impressed with the service provided by KMS courteous and friendly people - did a great job no hesitation recommending to anyone."
Gemma Clarke
Customer In Bury St Edmunds
"I would highly recommend this company, they helped us with our scaffolding needs when renovating our home. KMS staff were very polite, quick to respond and made our project start stress free."
Ozzy Waterton
Customer In Suffolk
"After a long working relationship with KMS scaffolding Ltd, I can definitely say that their competitive prices, and workmanship, are 100% reliable."