Domestic Scaffolding Bury St Edmunds & Suffolk
Covering All Aspects of Domestic Scaffolding Hire & Erection
The KMS Scaffolding Ltd contractors are fully trained and certified to undertake domestic scaffolding Bury St Edmunds, Cambridgeshire and Suffolk. Our scaffolding company has over 12 years of industry experience helping homeowners with projects such as new builds, extensions, chimney repairs, refurbishments, conversions, etc. We offer great flexibility as we are willing to work alongside with other onsite contractors, such as builders or roofers.
Our scaffolding contractors are CISRS qualified, and as a company we are CITB registered, hold CHAS accreditation, and adhere to the trading standards set by the Suffolk County Council. We are committed towards providing dedicated scaffolding services that match the highest standards in quality and health and safety compliance, giving you the ultimate peace of mind.
We also believe in providing absolute transparency in our work including pricing. It's the foundation to building and maintaining excellent relationship with our clients. Should you require any domestic scaffolding services, are looking for domestic scaffolding Bury St Edmunds, Cambridgeshire and Suffolk, then make an enquiry for a free quote today.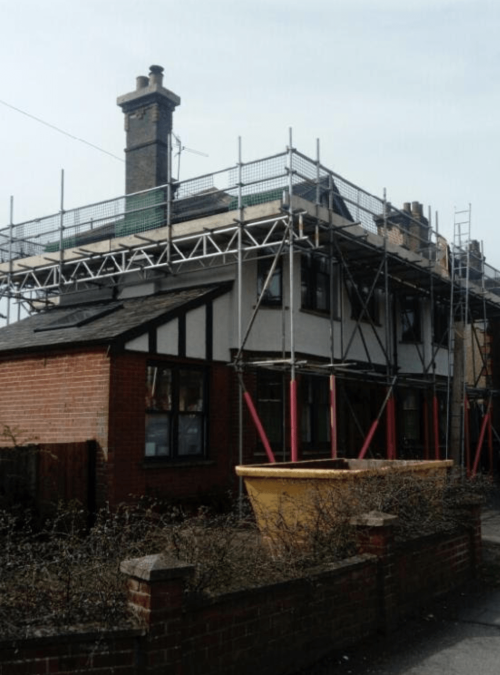 Scaffolding For New Builds
Do you have a new building project? Contact our trained and certified scaffolders who can erect structures to ensure your workers have a safe platform to work on.
Scaffolding For Extensions
Get in touch with us for your next extension project irrespective of its size. Our scaffolders at KMS Scaffolding Ltd will offer you a free quotations and consultation to plan your project.
Scaffolding For Refurbishments
Our scaffolding hire and dismantling services would be ideal for your refurbishment projects such chimney repairs, plastering, painting, rendering, roofing, new windows, guttering, etc.
Chimney & Roof Scaffolds
If you wish to either repair, build, or replace the roof or chimney, we can provide the scaffolding that's required to easily gain access to your roof. Our scaffolders are experienced in this field.
Access Scaffolding Solutions
From access platforms, handrails, suspended scaffolds, lifting beams, and staircase systems, we have it all covered to ensure you can gain safe access to areas that are otherwise hard to reach.
Temporary Roofs & Coverings
If your property construction is going to span across a long period, it would be best to install temporary roofs and covering to keep your site dry and protected from external elements.
KMS Scaffolding Ltd always aim to receive 5 star feedback from our customers for all types and sizes of scaffolding jobs undertaken. Visit our Reviews, Facebook or Google Page to read more testimonials.
Graham Atkinson
Customer In Cambridge
"Totally impressed with the service provided by KMS courteous and friendly people - did a great job no hesitation recommending to anyone."
Gemma Clarke
Customer In Bury St Edmunds
"I would highly recommend this company, they helped us with our scaffolding needs when renovating our home. KMS staff were very polite, quick to respond and made our project start stress free."
Ozzy Waterton
Customer In Suffolk
"After a long working relationship with KMS scaffolding Ltd, I can definitely say that their competitive prices, and workmanship, are 100% reliable."